Description
TAKE A STAND! DISCOVER THE BENEFITS OF MOVEMENT
Have More Energy
Burn Calories
Relieve Back and Neck Pain
Be More Productive
One monitor at a time not enough to fit your fast-paced workstyle? This dual monitor adjustable height desk is for you! We have combined the Taskmate Go with the Dual monitor arm to provide you with a sit stand workstation that works as hard as you do!
NATURAL WAY TO ENERGIZE YOUR WORK DAY
The Taskmate Go dual monitor adjustable height desk from HealthPostures is a sleek, cost effective way to enjoy a healthy energetic work-style. Now you can effortlessly move from a sitting position to a standing position improving productivity and comfort and have the freedom to move whenever you like.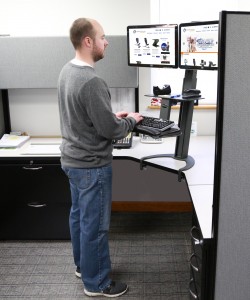 Just clamp the Taskmate Go sit stand desk to your existing work surface and mount your computer monitor. A simple
squeeze of the conveniently placed lever is all you need to move your monitor, keyboard, mouse and other items into a comfortable standing position. Releasing the lever at the desired height causes the unit to to lock into place giving you a sturdy, height adjustable computer work station.
The Taskmate Go adjustable height desk will not only keep you energetic and focused throughout your workday, it will also help you burn calories, lose weight and alleviate back pain. It's all in a day's work for the Taskmate Go!
View All
Close
Warranty Information
TaskMate Warranty The warranty is extended to the original purchaser/customer and commences on the purchase date from the seller/dealer. HealthPostures (HP) warrants its TaskMate to be free from defects in materials or workmanship for a period of 5 years from the date of shipment. What is not covered by this warranty: Normal wear and tear Alteration or modification of the product Abuse, misuse, or accident Damage resulting from shipment or storage Written notice of the defect must be given to HP within the applicable warranty period. Any product proven to HP satisfaction to be defective and within warranty period shall be repaired or replaced at HP's option. Only HP approved components validate this warranty. This warranty does not include any labor charges incurred in replacement parts installation. Freight charges to the factory are at the expense of consumer to seller. No credit will be given for any repairs to damaged or defective items without prior approval of HP. HP reserves the right to require that any such items be returned to the factory for inspection. THIS WARRANTY IS THE ONLY WARRANTY MADE BY HP, AND ALL OTHER WARRANTIES, INCLUDING IMPLIED WARRANTIES OF MARKETABILITY AND FITNESS FOR A PARTICULAR PURPOSE ARE HEREBY DISCLAIMED. DAMAGE RESULTING FROM MISUSE, NEGLIGENCE, ACCIDENT OR ALTERATIONS ARE EXCLUDED AND WILL NOT BE PAID. HP SHALL NOT BE LIABLE FOR ANY CONSEQUENTIAL OR INCIDENTAL DAMAGES WHATSOEVER.
View All
Close