Student Rent-To-Own
Our Current Student Rent-to-Own Deals
All Computerized Writers include Free Apeiron CAT Software - $300.00 value!
Sign-up for our NEW Rent-to-Own program and get a great start to your career - 6 month commitment - 0% interest - Own your writer in 12 monthly payments.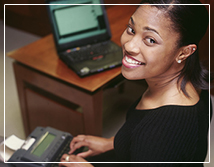 Students! Do you have doubts about whether court reporting will work for you? If you do, you're not alone. There are many programs out that will work for some, but not all. Don't take a chance by buying a used machine from a private seller that might sabotage your career. In 25 plus years we have found that most student machines have not been properly maintained. If you don't have a lot of money to invest in equipment, Stenoworks has developed a program just for you! Simply checkout with our new recurring system and your machine will ship to you within a week.
Rent to Own Student Writer Program - Overview & Advantages
Best Deal! Get a good quality refurbished steno machine including all accessories without the high price or long term commitment of a normal lease. With our rent-to-own program you can buy the writer at anytime along the way. We have programs designed for any financial level, starting at under $50 per month. Renting a machine through StenoWorks will help establish your credit with us and allow you to upgrade whenever you choose.
Great Support! All of our writers are fully warranted and include toll-free tech support for as long as you are renting, including our exclusive writer swap program.
Writer Tech Support -Here's how it works. Having a problem you contact us one of three ways. Either call our toll free tech support line during business hours, open up a live chat on our site or open up a support ticket using our award winning Zendesk

help system.
Purchase Anytime! Every month 100% of your rental goes toward either buying the machine or upgrading to a professional machine. You can't beat that!
Free Customization! We will modify the keyboard for you with any style keytops that your school requires or suggests. There's no additional fee for that service.
Short-term Commitment! We only require that you rent for a period of six months. If at any time you need to cancel just return the writer and your lease is ended.
Upgrade Guarantee! Once the conversion to purchase is complete, the writer will carry an upgrade guarantee of 90% of our current lowest sale price minus a 10% admin fee. You then can upgrade to any of our professional writers with a retail price that is at least 25% higher in value.
No Credit Check! We understand that many students are just starting out and might not have any established credit. That's why perfect credit is not necessary for this program.
Applicant Requirements
1. Valid Driver's License or State ID

2. A credit or debit card either in your name.

3. If you are under 18 years old, we would require a parent or guardian as a co-signor.

4. A security deposit is required at the time of your order.
---

---
Rent to Own Details
Here's how our rent-to-own program works:
With this program you have many different options. Here are a few for you:
1. Only Renting: You must continue renting for a minimum term of 6 months. If you return the writer before 6 months you will still be charged for 6 months of rental. You can continue renting after 6 months on a month to month basis. If at anytime you decide to return the writer, we will terminate the rental and return your deposit minus any fees or charges.
2. Purchase Writer: You can purchase the writer anytime by paying the remaining payments due on the lease. You must make payment in full for the total sales price of the writer. By renting you have earned 100% of all rental payments minus tax if applicable toward the purchase. We will also credit 100% of the deposit toward the purchase. You own the writer plus any warranty remaining.
3. Upgrade Your Rental: If your rental is in good standing and you have rented for at least 6 months you can choose to upgrade your rental from a lower level plan to a higher level plan. What you are able to do is terminate your present rental and upgrade to the better writer and continue to rent. You must first end the your present rental by returning the writer. You must sign new paperwork for the upgraded rental which would require a 6 month commitment. Any additional deposits or charges will be charged and the new writer will be shipped.
4. Purchase Upgraded Writer: If you choose to you can end your rental at any time after 6 months and purchase the writer. This procedure is discussed in paragraph 2. At any time within four years of purchasing you can trade-in the student writer towards a professional writer of 25% or higher value and get 80% of the current lowest retail price of the writer minus a 10% admin fee toward the new writer.
5. Returning the Writer: This agreement is cancellable by you at any time after 6 months. You must return the writer and all accessories in it's original packaging. The writer will be inspected at our office. The cost of repairs or replacement of parts will be deducted from your deposit. We will return the balance of your deposit within 30 days.
Disclosure: All writers have a $75.00 restocking fee due when the writer is returned. The renter is responsible for any damage to the machine or accessories. StenoWorks reserves the right to deduct any damages from the deposit. The balance of your security deposit will be refunded to you within 30 days of the receipt of the equipment. You will personally be liable for any charges or costs even if your bank declines the charges on the credit card. All upgrades to professional writers are based on the retail price of the machine.