Description

No Hassle Writer Trade-in Specials
Pay in Full Option - Free UPS ground shipping with insurance both ways (return label included). Guaranteed trade-in amount will be credited to your original payment source within 1-2 business days of us receiving the trade-in writer. HINT: Just select the type of machine you are trading and then select if you are also including accessories. We will include our guaranteed price Purchase Order along with a UPS return shipping label with your purchase. Guaranteed trade-in prices (guaranteed for 10 days after receiving new writer) Prices listed above.
Pay Difference with our Express Trade Option - 2-3 days total downtime Only $100 - includes Free UPS Overnight Express shipping both ways. HINT: Just select the Express trade-in option. Then we will prep your new writer and schedule your trade-in shipment with you. When the new writer is ready and you are ready to send in the trade-in, we will email you the overnight label to Express overnight the Trade-in writer to us. That Overnight label is good for one week to best fit into your schedule. Within 24 hours of receiving your writer trade-in we will Express Overnight your new Elan Mira A3 to you.
* Trade-in writer must be in good working order with no excessive cosmetic damage or any undisclosed defects. Must be free of any liens. In the unlikely event that the tech evaluation of the machine reveals an undisclosed issue, we reserve the right to cancel the transaction and return the trade-in to you or modify the trade-in offer.
** Standard accessories include tripod, case, cables, charger, etc.
Other Writer Trade-in:
We take trade-ins on most writers. If you have a different trade-in writer and or would like an individualized quote, please fill out our sell-your-equipment form and someone will reach out within 1-2 business days. Just indicate on the form which writer you are interested in trading for.
---

Perfect paperless writer for the new reporter or the advanced student.

This machine has everything you need to report with a technology advantage. Plenty of back-ups, audiosync to record, individual key adjustments and one of the nicest touches around.

Less than 1/2 the price of the Luminex

®,

Diamante®, Passport® or Impression

Real-time translation of English based on your personal dictionary displayed on a tilting color screen

Search your notes on the screen and listen to audio with an earbud

Use updated SD Card storage instead of floppies
Students!

Here's your steno tip from the

Guru: A very nice paperless writer using dual SD cards that has a very similar touch to the Diamante® or Luminex

®

without the cost. If you are student stuck at a higher speed then this is a writer you should take a look at.
---

Refurbished Elan® Mira A3®
Choice of carrying case
New Two 2 GIG SD Memory Cards
New External USB SD card reader for use with computer
New 110/220 volt A/C adapter/charger with North American plug
New 1 rechargeable power pack including new cells
Tripod
User's Guide
New USB-Cable
Writer Utility CD with dictionary conversion program for non-Stenograph® software
New Audio-Sync microphone included
New earbud or buds included
---

Credit & Debit Cards:

Visa/MasterCard/Discover/AMEX

_____________________________________________________________________________________
_____________________________________________________________________________________
Buy it your way with StenoWork's Steno-Layaway flexible plans. You pick how much, how often and how long you pay. Just fill out our Steno-Layaway form and we will send you our Layaway agreement by email. It's just one more way that we make shopping on our web site more affordable.

______________________________________________________________________________________
Financing:

Long Term Financing (12 months or longer) Good Credit Score? Co-Signor if a student? Apply today for our long-term leasing deal! Approximately $90.00/month for 36 months.
Apply Here:
______________________________________________________________________________________
Trade-ins: Have a trade-in? Get a trade-in quote within 24 hours. Just fill out our sell-your-stuff form. If you purchased one of our student writers, then you are entitled to 100% of your student writer price minus just a $50.00 trade-in fee.
---

AudioSync™ OTG - on the go!
Leave that clumsy tape recorder at home. Record the audio and even monitor the sound quality if you wish. Start, pause and stop as desired. Play back the synchronized audio privately to your own headset or through speakers if you choose to share it with the participants. Microphone and earbuds included.
Large color display lets you see things your way!
View text, steno or both side-by-side ... and switch in the midst of a job
Patented tilting display smoothly and easily adjusts to suit your viewing angle
Large or smaller fonts and color choices are easy to choose and to change
Triple protection of your valuable steno notes
Secure Digital Cards (SD) are small, quiet and reliable and hold hundreds times more than floppies. A Data SD card and a Backup SD card are included. The Data SD card is compatible with any CAT software capable of reading Stentura note files from a drive other than just A and B. RAM memory backup can be written to SD card or read out through a cable if needed.
AccuDial
Fifteen precision settings allow you to personalize the contact settings as your style and touch change over time. Adjust each key precisely by turning the wheel. No special tools required.
Multiple ports for realtime
USB port for writing realtime to Case CATalyst; for updating the personal and job dictionaries in the machine; for uploading a steno file to your Case CATalyst computer; and finally for downloading software updates received from Stenograph!

DB9 Serial port for using the Bluetooth by Socket Communications CSA adapter enables wireless realtime with Case CATalyst and other non-Stenograph software programs.
An I/O port is included for use with our optional WiFi Wireless Realtime Kit.
DB9 Serial port is also used for writing realtime with legacy software such as Premier Power and non-Stenograph software.
Headphone and microphone jacks built in
Just use a powered microphone such as the AudioSync Mini Mic from Stenograph™ and record conversation within a 35 foot radius directly to your élan Mira A3. Want to be absolutely sure you're getting the audio? Just plug in a headset to monitor the recording or to play back privately during breaks in testimony. Attach speakers to share the playback with others.
EasyLock™ T2 Tripod
It tilts! It pivots! The EasyLock™ T2 slants toward you and floats over your knees in perfect writing position for the élan Mira.
Features
Extra large color display for viewing text, steno and both side-by-side. Its patented tilt feature lets you adjust the viewing angle to suit lighting conditions to make it easy on your eyes!

Records live testimony using AudioSync OTG - on the go - synchronized with steno notes.
Search for questions, answers and text for readback or audio playback prior to readback.
SmartStroke evaluates your hand-to-hand movement for cleaner strokes and less stacking.
AccuDial contact adjustment makes it easy to set your style and touch on each key
Small LCD indicator that displays machine status and key contacts to keep you informed.
USB and DB9 (serial) ports and wireless ready. WiFi Kit sold separately.
Secure Digital (SD) cards provide a reliable storage of your valuable note files
RAM Memory provides third backup for steno note files
Rechargeable batteries work up to 12 hours on a single charge
Universal A/C Adapter/Power Supply 120/240 Volt with North American plug
32-bit microprocessor features superior power efficiency and high performance
Includes the EasyLock® T2 Tripod that floats the writer over your knees for comfort
2-year warranty protects your investment.
Data SD without
Audio Recording

Data SD with
Audio Recording

Strokes

Pages

Strokes

Pages

Hours

Data SD Card
(2GB)

504,000,000

2,296,000

3,740,000

17,000

340

RAM

320,000

1,450

320,000

1,450

Backup SD Card
(256MB)[1]

3,400,000

15,000

Dictionary Capacity:
480,000 entries

Reopen for Readback:
Maximum 3,200 pages

Battery Capacity:

Writing Time: 10 hours

Recharge Time: 6 hours

Recharge Frequency: Daily

Battery Life: 1-1½ years
[1] While larger capacity cards can be used for the Backup SD card, a maximum of 32MB will be saved to that card. When the Backup SD card is full, it begins writing over the oldest file.
---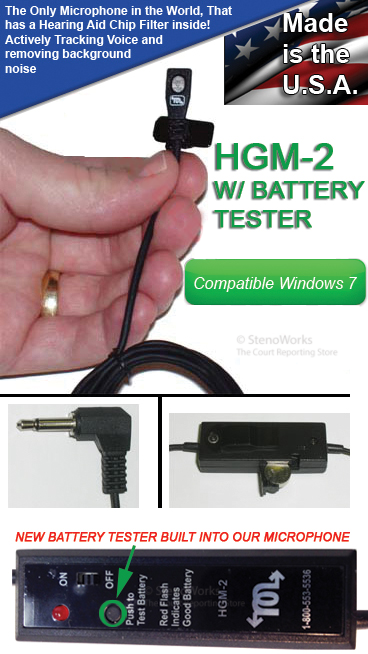 Upgrade your microphone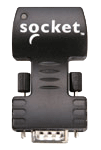 Add Wireless Capabilities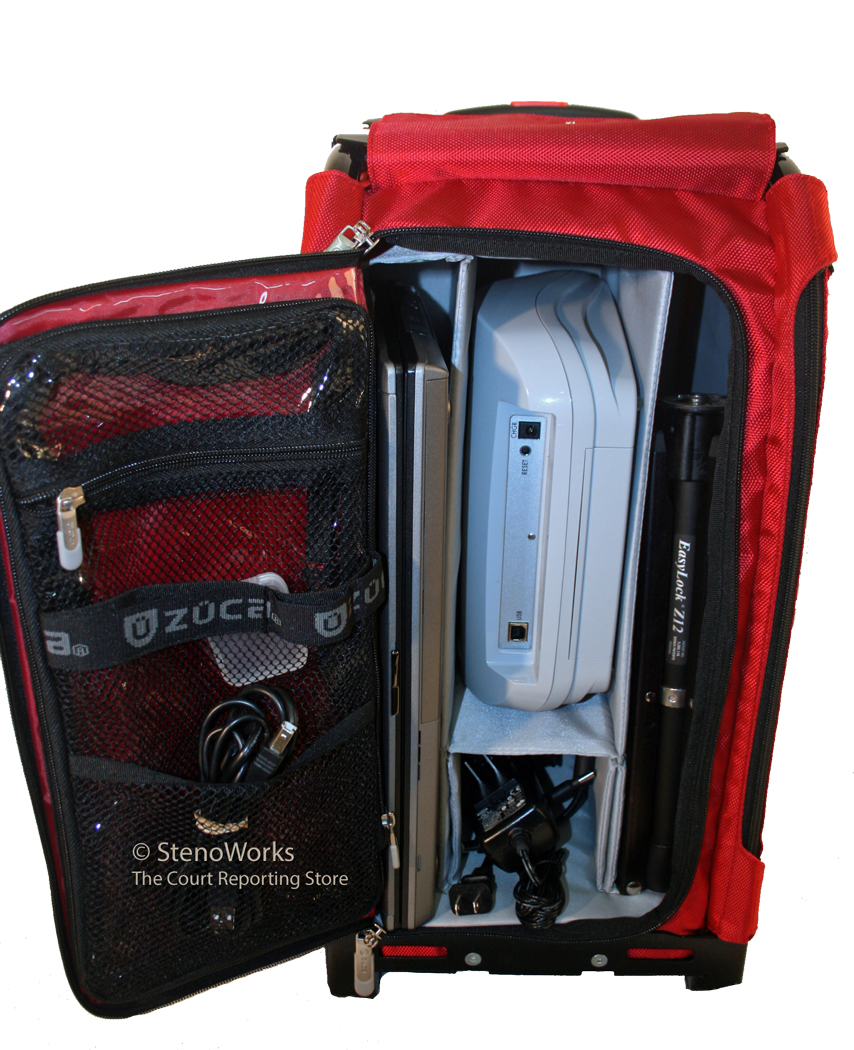 New Wheelie Cases
---
Over 20 years of experience
Technical support backed by award winning ZenDesk Help System

Toll-Free Support and Ordering

Best prices guaranteed

Online Chat system

Money back guarantee
---

In order to customize your writer we generally ship within 1-2 business days. If you need your writer expedited please add our expedited shipping option!
We offer FREE shipping in the continental US using with just a small $25.00 upcharge for HI or AK. The shipping times will vary and depend on how far you are from Palm Beach County, FL. (Generally 1-5 business days)
If you need your writer sooner we can ship using FEDEX Express with Priority Overnight, Standard Overnight, Guaranteed 2-Day, or Economy 3-Day shipping available for an additional charge.
Shipping international is also available. The following are the approximate cost to ship to: UK & Europe ($125.00), Canada ($75.00), South America ($150.00), Australia ($150.00) using . Please contact us with your email address and we will get back to you within 24 hours to get an exact shipping quote and to get any specific shipping questions answered.
View All
Close
Warranty Information
This writer has a two year warranty from StenoWorks covering both parts and labor.
View All
Close